As the new school year begins, there's one group of people gearing up for one of the most important—and challenging—jobs in the world. Our teachers spend day after day educating our children, encouraging them, caring for them, and helping them grow. In appreciation for all of the hard work our teachers put in—not just during the school day, but often in a lot of their "free" time and before classes officially begin, we wanted to offer a special discount for all educators this month.
For the month of August, teachers and educators will receive 10% off of our new product line, R+Co. To help you pick out your new favorite product (we guarantee it will be), we've put together a guide for choosing the right products for your hair!
Hair Type: Thin/Fine
In Need Of: Volume
Okay, ladies, let's talk about the Dallas fam first. Dallas Shampoo is super cool because it has advanced polymers that create body and volume while reducing static. Because those styling agents are built into the shampoo, you can opt to blow out your hair with no additional products.
Dallas Conditioner includes the same type of styling agents that boost body and volume, but it also includes reparative ingredients that nourish the hair and improve elasticity (which is important for plumping effects.) This duo can be combined with a different shampoo or conditioner or used together for maximum effects. The last of the Dallas fam is the Thickening Spray.
First, it smells amazing, but more importantly, it is the best combination of conditioning and moisturizing while also thickening and building volume (aka volume without the frizz!). It also includes thermal protection which makes it a great prep spray before blow drying your hair. Outside the Dallas line, we also love Cactus Texturizing shampoo for fine-haired ladies AND lads.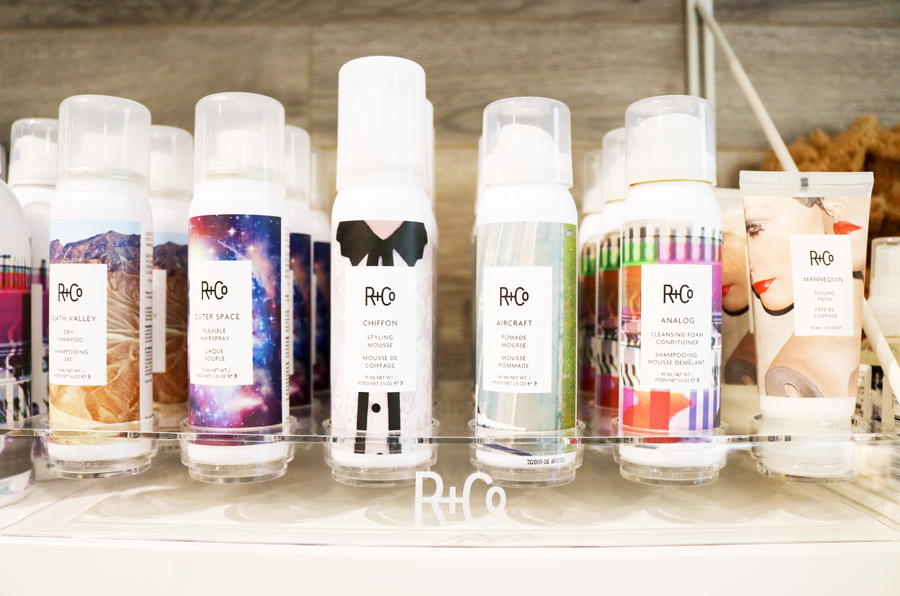 Cactus works best without a conditioner after, which is awesome for those who naturally have silky smooth hair. It adds texture and grip while also strengthening and hydrating the hair, which is all pretty fantastic. Finally, if you ever experience oily scalp, we love both of R+Co's dry shampoo products for both a boost of volume at the root, added texture to dry hair, and of course the actual dry shampoo benefits. Death Valley is a preventative dry shampoo to be applied to clean, dry hair, and Badlands is the first ever dry shampoo paste that can be added to day two or three hair to revitalize your roots, and absorb oil.
Hair Type: Wavy/Curly
In Need Of: Curl-enhancing, frizz-reduction
No matter what your wave or curl pattern, there are a few things that seem to ALWAYS plague curly girls' hair. In need of moisture/hydration, frizz probs, and finding a product that jives with your unique wave or curl pattern. Not all curl products work equally well for all curls. R+Co offers a variety of products that each cater to a specific need that textured hair faces.
For shampoo and conditioner, they have both a moisture line and a smoothing line. These can be used by the set, or mix and matched per your hair needs. Our favorite R+Co styling product for curls is Twister Curl Primer. This is a unique product that actually preps your curls to better receive whichever curl product you choose to use next. Used as a stand alone product it reduces frizz and adds shine, but does not offer any hold. Used in conjunction with another product it does all the things curly hair needs—moisturizes, reduces frizz, increases shine, and smoothes the hair cuticle.
This gets your curls in the best possible place to work with whichever curl product you choose. Because R+Co understands that different curls like different types of products, they have a variety of products that can be used on curls or waves. Two mousses—Aircraft for waves OR curls, has a 3 out of 10 hold and enhances the natural pattern and Chiffon with a hold of 4 out of 10 that is fabulous for finer curls.
Two gels—Motorcycle, a gel/wax hybrid that has the hold of a gel with the shine of a wax, and Wall St, your classic strong hold gel. Sail, a soft wave spray, and Rockaway, a beach spray, are both great for those who like a messy, beachy waved look. Basically, whatever your textured hair needs, R+Co has got you covered. Ask your stylist which product might work best for your hair texture!
Hair Type: Thick/Coarse/Damaged
In Need Of: Hydration, Repair, Softening
Despite all of our best intentions for having healthy, un-damaged hair—sometimes it happens. Maybe your hair is naturally prone to breakage, or a previous color experience left your hair in less than admirable condition. Using great products with high quality ingredients can often be a vital aspect to bringing your hair back to a healthy place.
If you have naturally coarse hair, or are in need of some reparation and moisture, Atlantis Shampoo and Conditioner are made just for you. Both products include ingredients that treat scalp health, oil for moisture and smoothness, and a protein for strengthening. The conditioner can also be left on the hair for approximately 10 minutes to be used as a hair mask.
You can also use Palm Springs, a treatment mask that targets scalp health, along with restoring moisture and strengthening the hair. Palm Springs can be used pre-shampoo (applied to dry hair for approximately 10 minutes), as a traditional post-shampoo mask (leave on for 10-60 minutes) or as an extra hydrating co-wash (when you use one product in place of both shampoo and conditioner).
The most important thing for styling coarse and damaged hair is to protect the hair from further damage from heat and tools. Starting with a prep spray (One Prep or Pinstripe Detangler) helps balance the porosity of the hair strands, and seal moisture into the hair. You could also add hydration and softness with a moisture cream like High Dive. This conditions and restores the hair.
Finally, a hair oil can often be your hair bestie when you have dry, damaged hair. Tinsel Smoothing Oil softens, nourishes, and smoothes the hair, along with providing protection against heat and environmental aggressors.
TEACHERS: Thank you for all that you do each and every day for our children and our futures! We hope you will enjoy receiving 10% off of your R+Co purchase throughout the month of August. If you are in need of a product consultation, give us a call and chat with our Guest Services team (Kassy, Stephanie, and Ray) or schedule a 15 minute product consultation with your stylist. Happy Back to School Days!