Official Garnish Trend Alert
Psst… Autumn is coming and we're giving you a sneak peek at our predictions for the upcoming fall hair trends. It may still feel like we're in the middle of Summer here in North Carolina, but before you know it the nights will get a little cooler, boots will start to reappear, and you'll be ready for a hair revamp to go along with the new season and weather. Fall hair trends are all about rich colors, new fringe, and more relaxed styles. Here's what we expect to see this year:
1. Reds: Strawberry to Burgundy
As the leaves move towards the darker ends of the warm color spectrum, and oranges and reds start to take over the décor, it seems that there's always some version of red hair that becomes more popular in the fall. This year we're seeing two ends of the red spectrum: the Strawberries… soft, natural reds, and the Burgundies… deep, rich, vibrant hair the color of your favorite Merlot.
Strawberry is the perfect transition for blondes looking for a change for fall, and burgundy can be a gorgeous option for brunettes looking to spice things up. Whichever end of the spectrum you prefer, red is always going to be "in" for Autumn.
2. Bronde: The Perfect Fall Blend
Bronde really took hold last fall and winter, but it's such a perfect mix of soft browns and dark blondes that we think it will be a go-to for the cooler months for years to come. Bronde, like most other handpainted hair colors, can be customized to your individual look and style, and can focus more on lighter tones or darker ones.
Because there are various shades of bronde, we love this look because it's accessible to many different hair colors and textures. It's the perfect way to go a little bit darker without having to go full-on brunette. (Which also means, it's easier to re-lighten when Spring rolls around just a few months later).
3. Fringe: Now for Textured Hair, Too
Image Courtesy of Global Couture Blog, Photography By Denisse Benitez Photography
Bangs often start to reappear in the fall because they're easier to style and maintain without the heat and humidity of the NC Summer. Curlies and those with textured hair have often been swayed away from bangs in the past, but no longer!
This year we are seeing the emergence of curly and wavy fringes. There's really no wrong way to wear bangs as long as it suits your look and lifestyle (let's be real, they do require a little bit of extra maintenance), but we're so happy that textured bangs are now showing up as a fashion trend. Curlies—it's your time to shine!
4. Braids: Always In, But Forever Changing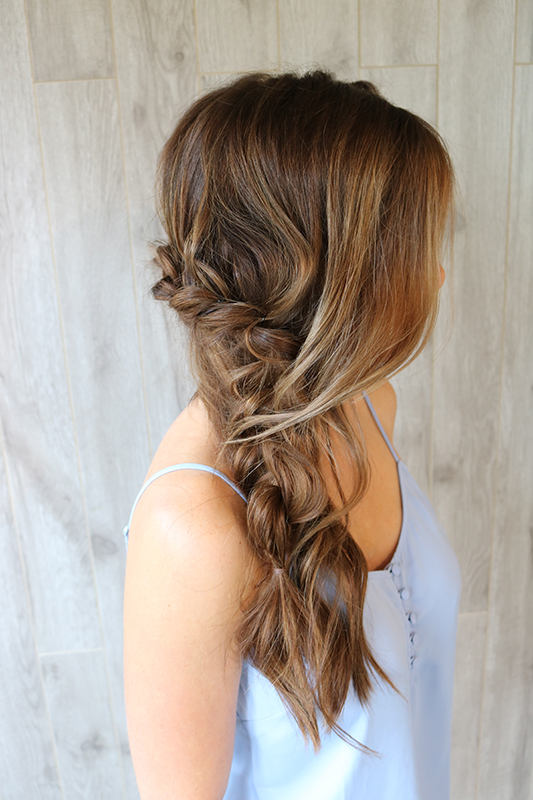 If we're being honest, we're obsessed with braids year round. They're SO versatile that they can be elegant or chic or boho or lazy… and they pretty much look fabulous any which way you wear them. In the fall particularly, we predict we'll see a re-emergence of messy fishtails, crown braids, and smaller braids added in for texture and visual interest.
Messy fishtails pair so well with scarves and oversized sweaters, and crown braids are a classy way to wear your hair up for an event or just a day at work. Adding in smaller braids when your hair is down, using them to give yourself a half up style, or adding smaller braids into an updo are all fun ways to add texture to your look in a pretty simple way.
5. Loose Waves: Lived in Hair is Life
As the weather chills out, so can our hair (hallelujah for less humidity), and we love this fall equivalent of beach waves. If your hair is naturally wavy, you've got a one up on this trend… let it air dry, comb it out with a wide-tooth comb and you're golden.
If your hair is naturally straight you may have to work a little harder to achieve this look, but adding in some loose curls with a flat iron or curling wand, then combing out with a wide-tooth comb should help you achieve the lived-in locks that you're seeing everywhere. Add in a spritz of texture spray for a little extra oomph and out the door you go!
6. Hair Décor: Not Your Childhood Barettes
But almost. We're seeing barettes, hair clips, and headbands sneaking back into the fashion world, and we're not exactly mad at it. It may give you flashbacks to the 90s when barettes were all the rage, but adding a little sparkle into your hair sounds kinda fun, right?
This trend may have been the biggest surprise of NYFW (at least in terms of hair), as we saw cute headbands over low ponies, barettes clipped into down-dos (is that a thing?) and decorated pins spicing up updos. We love anything that lets you express your personality, and adding in barettes, headbands, and even bows is definitely a way to do so.
Strawberry blonde, burgundy, or bronde… curly fringe, braids, or loose waves… and all the ways you can add a little extra something into your look, the Fall Trends will be here before you know it—and now you can get in on them from the very beginning. If you're ready to schedule your fall hair transformations—give us a call.
We are all here for your red, bronde, or whatever other color your heart might desire. Autumn fashion calls for a whole new look. Why not start with your hair? After all, it's the accesory you wear every day.

Which trends are you most excited about? Sound off below.