All month we've been featuring each of our team members and their Garnish Love Story. We've shared their perspective on how they fell in love with Garnish alongside Candice's perspective of how she knew they were the right fit to be a part of our space. To close out our love stories we wanted to share a little bit about how Garnish came to be and how Candice really fell in love with Garnish and how that love has shaped everything Garnish has become since its birth.
The root of Garnish began long before it actually had a space of its own. Candice never set out to own a salon, but when she found herself continuously experiencing hard times at other salons, it made her start to consider the possibility. After experiencing salons where the culture just wasn't quite right, salons where she felt there was a lack of integrity, salons that just weren't progressive, and then finally finding what she thought would be her salon home only for it to be unexpectedly closed, she realized she would have to create her own culture and environment in order to have a space where she could really feel comfortable.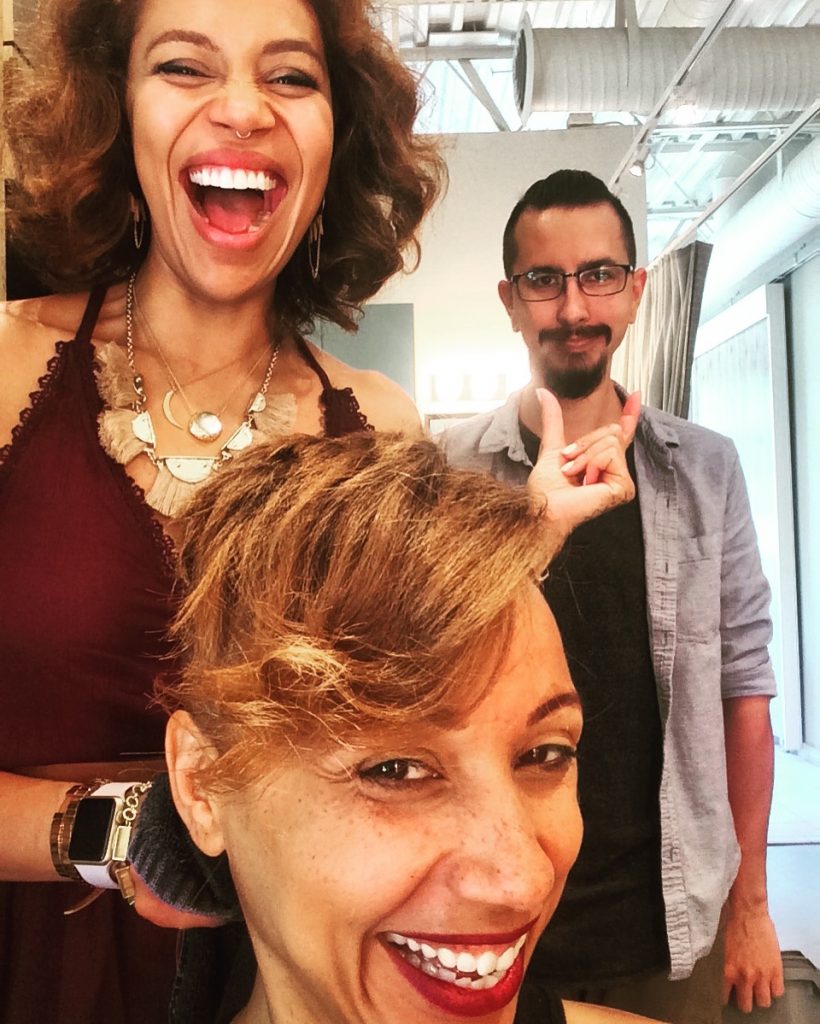 When that first began it was just a single salon suite of "one." Candice was the only stylist and ran her salon suite with one other person—the assistant from the previous salon that had shut down. He helped her create a really great experience for her guests, and that's what first started to establish the Garnish Experience. As she continued building her studio, she found that she had a knack for organization and creating processes. Then she hired a business coach and that's when she really started to see that creating a salon of her own could become something great.
If you know anything about Candice you know that once she has a vision, she goes after it. As she began to cultivate the concept of a salon that could be a positive influence bringing stylists motivation, direction, and so much more, she began to look for actual spaces. As soon as she found the space Garnish is in now, she saw so much potential for what it could be. The natural light beaming in and filling the space gave her all the feels. She just knew that Garnish was going to be something really big.
The build out process took the next 6-8 months. Over that time period Candice emptied her 401k, took everything she had and poured it into this dream… and also at the same time found out she was having a baby. She was going through hiring and first trimester woes, but through it all felt like she had never felt about anything else before. When Garnish opened in August of 2014, it began with Candice and two other stylists who had said they wanted to work with her. And it has just continued to grow and evolve since. Now, she can't imagine her life without Garnish beign a part of it.
Garnish has become not just a successful extensions salon, but it has also been a place of opportunity and growth for stylists. Candice has expanded from being exclusively behind the chair into training and education. Garnish is now becoming one of only 3 national host salons for Natural Beaded Rows Extension Education. She has shifted all of her energy into her true passion for changing the lives of women through the art of extensions, and creating amazing experiences. It is a hair salon, yes, but as so many people have found something inside of the space, it has become so much more than that.
Everyone that has come through the space, even those who are no longer in the space, have found something there. Whether they've discovered something new in themselves, found a path, or found alignment that has spun off into something amazing, it has been a place of change, growth, opportunity, and vision for everyone. When we asked Candice how she felt about everything Garnish has become, she said, "I am so honored to have been the founder and establisher of this kind of space." The kind of space that positively impacts everyone who walks through its doors. The kind of space that has truly changed lives.
The love Candice has poured into Garnish has truly made it was it is today.