Botox + Fillers + Braids, Oh My!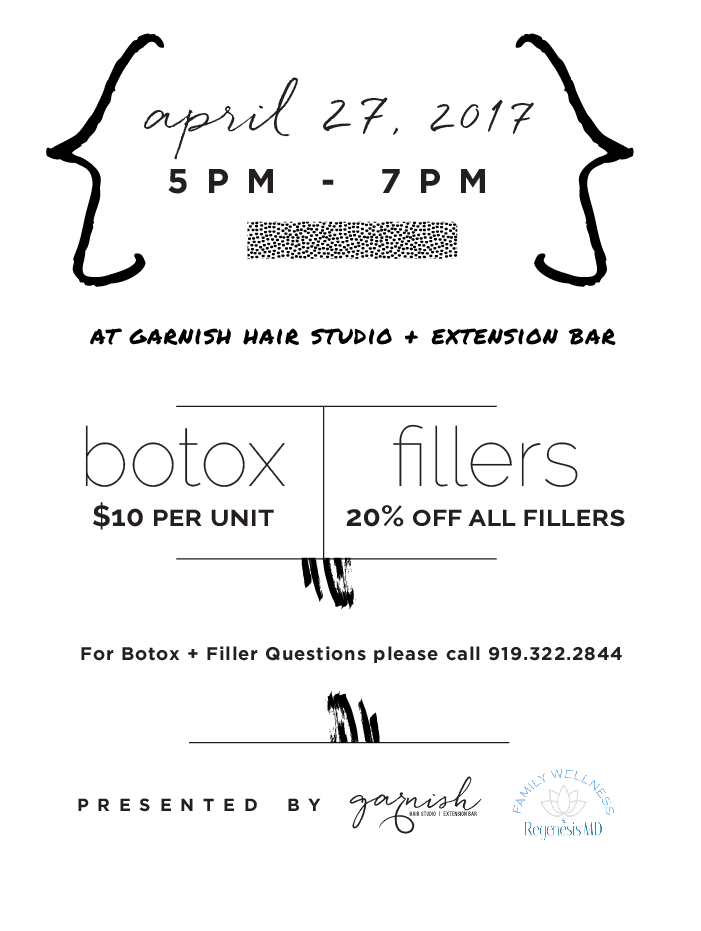 On Thursday, April 27th Dr. Waseem Garbia of Regenesis MD, an aesthetics and anti-aging practice, will be joining forces with the Garnish Team to host an event in studio.
The event, Braids & Botox, will feature Dr. Garbia's botox and filler services alongside the Garnish team's fabulous braiding talent. Braids + Botox will be open to all to attend, however, the braid & botox space will be limited to 20 guests due to the time of each service.
If you would like to register for the event to receive a service, or simply to attend, please fill out the form below. Spots will fill up quickly, so RSVP today!
If you have any questions regarding the services that will be provided, you may contact Dr. Garbia's office for botox and fillers questions, or Garnish Studio for general event or braid questions.
Braids + Botox Specials with Garnish
Garnish will also be offering TWO exclusive specials that will only be available during the event, when booked IN salon!
Keratin
Receive $50 off any Keratin Service booked during the event, scheduled before May 31st.
Extensions
If you've ever been interested in extensions now is your chance! Schedule an Extension Consultation with Candice during the event and the consult fee will be waived!
We're so excited to partner with Dr. Garbia, and look forward to seeing you on April 20th!