The first stylist to introduce me to hair oil told me it was every curly/wavy girl's best friend. Textured hair of all kinds tends to live on the dryer side, and be more prone to frizz. Hair oil moisturizes and smoothes, and thus counteracts two of the main curly girl concerns. When you add lightened hair into the mix, oil becomes even more important, as lightened hair is even more dry and less smooth than normal textured hair.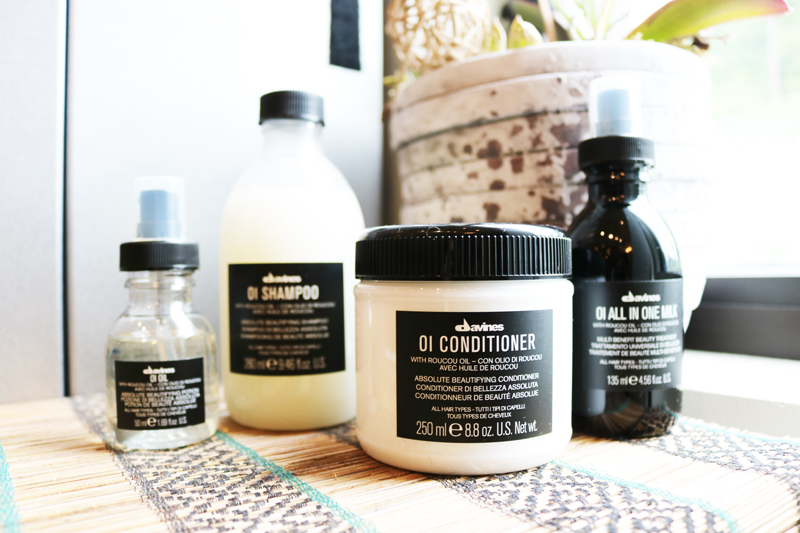 I recently tested out the entire Oi line on my hair for three weeks and am here to give you my thoughts on all four products.
My hair: Wavy, Lightened, styled with heat often
Length of time using Oi products: 3 consecutive weeks
Oi Shampoo:
My favorite thing about using Oi Shampoo is that it lathers really nicely. As a member of the Dirty Hair Club, and someone who typically uses sulfate-free shampoos, using a shampoo that lathers in dirty hair on the first scrub is pretty cool. The scent has a bit of citrus mixed into a very natural vanilla (as opposed to a sweet vanilla), and it's light enough that you only really smell it while shampooing (as opposed to some shampoos that linger in your hair throughout the day). It's highly concentrated, so you really only need a quarter size of shampoo, and because it lathers, if you're a double cleanser, you can skip the second shampoo with no problem.
Oi Conditioner:
If you have ever used a hair mask before, Oi Conditioner feels more like the density of a mask than your average conditioner. It's thick, but it spreads easily enough and really coats your hair. Like I do with all conditioner, I left this on for approximately 2-5 minutes before rinsing. Towel dried hair felt silky smooth, as if a silkening product had already been applied. I must admit, despite being a product junkie, a shampoo/conditioner that has some styling effects built in is one of my favorite things. I love a multi-tasking product.
Oi All in One Milk:
This product is a blend of all of my favorite things, so I had high hopes for it. It's essentially a blend of oil, detangler, and leave-in conditioner, WITH heat protectant qualities as well. It silkens the hair (as the entire Oi line does), and has the same natural smell as the Oi Shampoo. It doesn't feel like it would add weight to your hair (indeed it's intended not to), and spreads in your hair fairly well, but when I diffused my waves after using the Shampoo, Conditioner, and Milk, it weighed them down a little. The entire line contains Roucou oil, and thus each of the products was adding the same oil to my hair. My hair is still pretty short (just longer than chin length) and I have larger beachy waves. The weight from all three oil products would probably have been amazing in my hair when it was much longer, or in heavier curls that need that extra weight and conditioning, but it was just a little too much altogether for my current hair situation.
Oi Oil:
As someone who has used oil in wet hair, dry hair, as a blowout product, to reduce frizz on day two diffused hair, etc… I really love hair oil. My favorite thing about the Oi is that it feels light and silky and has a very soft scent. I used it alongside my normal blow out balm to blow out my hair and it worked just as well as my usual oil (which, admittedly, is rather an expensive one). I think for my particular wave pattern, the Oi Oil is a better fit than the Oi Milk.
Overall, I enjoyed the Oi line of products. It's great for anyone in need of smoothing and frizz reduction, particularly curlies. If you use the entire line together, there is a possibility of your hair getting weighed down if it's a more delicate wave or curl pattern, but sometimes, that might be what you're looking for anyway.
After using the line for a few weeks I already plan to recommend it to my mom who has the same big waves as I do, but even coarser texture.
Final conclusion: The Oi Line is definitely "Worth the Splurge." For more details about what makes Oi work the way it does, check out our blog post about the Oi Family here.<