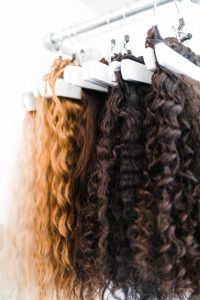 What is Garnish Green?
Garnish Green is our in-studio stylist academy where our team has the opportunity to learn the ins and out of being successful stylists and extension experts. As part of their Garnish training, each new hire is. enrolled in the academy and must successfully complete and show mastery in technical skills such as cutting, coloring, and chemical processes, in addition to the rigorous training in the many extension methods that they will be expected to perform as a stylist on the floor at Garnish.
Each stylist is expected to show mastery of the learned techniques by inviting a model client to their chair to receive the service. In exchange for preferred pricing, models are asked for grace, flexibility, and honest feedback about not only the results but their overall salon experience as well.
Current Model Call
Currently, our garnish green stylists are looking for keratin models as they perfect their technical skills using this preferred smoothing treatment. 
We are looking for wavy, frizzy,  curly, and textured hair models with chin-length hair and longer on  Monday, March 28th. 
Keratin Treatment benefits include cuts down on blow-dry and style time and tames texture for NC humidity. 
If you are interested in applying for this (or any) model opportunity, please fill out our Model Application!