This month is the perfect time to treat your tresses to some TLC with an in-salon or at-home specialty treatment. By now you've probably been to the beach or pool at least a hand full of times, and with the sun, salt, chlorine, and maybe a little neglect, your hair and extensions are probably feeling dry and damaged. Lucky for you, we have deep, reparative treatments designed to breathe life back into your hair and extension set. If you think you could benefit from a reparative or smoothing treatment to revive more manageable and healthy hair, ask your stylist which treatment would be best for you.
Renwal Remedies - In Salon Smoothing Treatment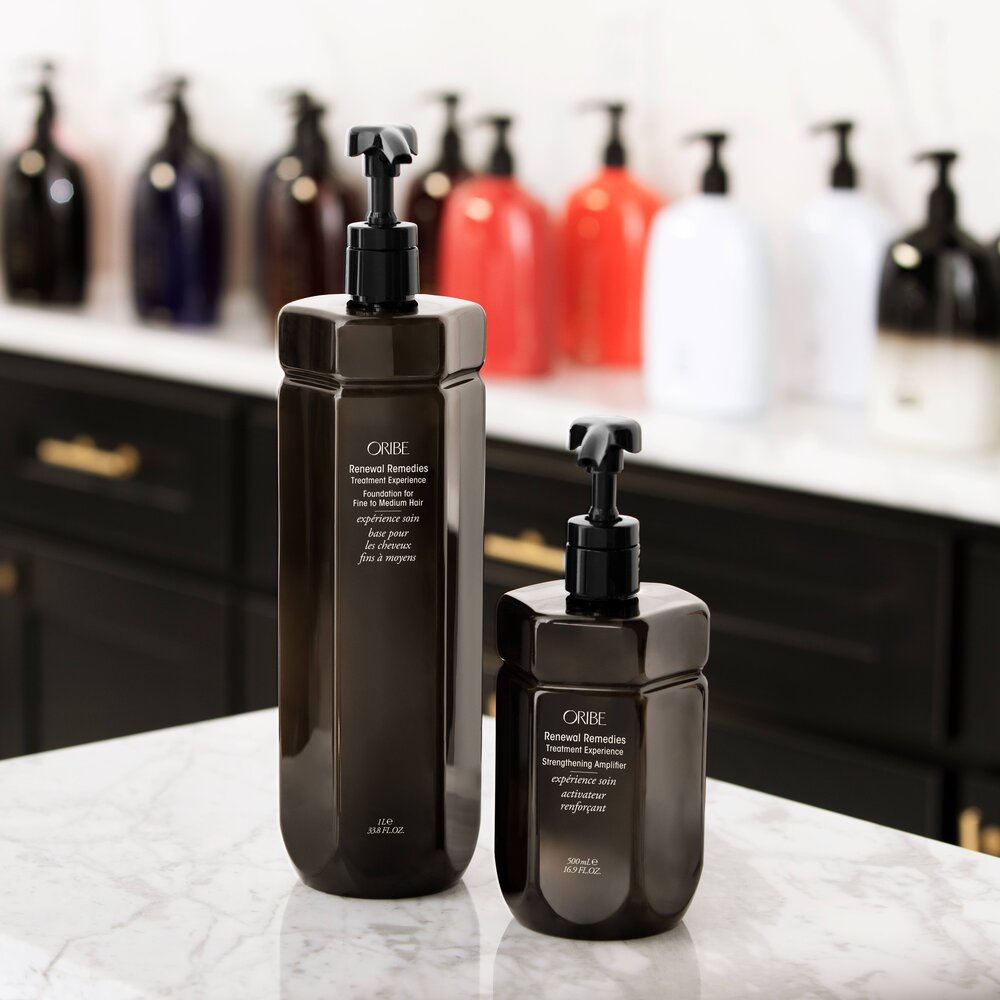 What is it:
Oribe's first salon-exclusive treatment service that will help to smooth, strengthen and protect our clients' color between appointments. This revolutionary salon-exclusive system is customized to address each client's individual hair needs.
The Renewal Remedies Treatment Experience is an in-salon service that is quick and convenient for when you need to address a wide spectrum of concerns. The Renewal Remedies Treatment consists of two components – Foundations and Amplifiers. The two components are combined by your stylist based on your individual hair needs. Once the components are mixed together, the treatment is applied to the hair after shampooing and left on for just five minutes.
Who is it for:
All Hair Types wanting to address smoothness, strength, and color retention
Key Benefits:
Strengthening the inner structure of the hair while restoring the outer lipid layer
Providing intense hydration
Increasing the vibrancy, smoothness, and strength of hair
Visibly healthier hair after one use.
It will be 4x smoother, 4x softer and 74% more manageable
Hair Alchemy 3 part At-Home Treatment
What is it:
Designed for those with inherently weak hair, the collection includes the Hair Alchemy Resilience Shampoo and Conditioner, along with the Hair Alchemy Fortifying Treatment Serum—a new regimen formulated to prevent hair breakage and strengthen strands from the inside out.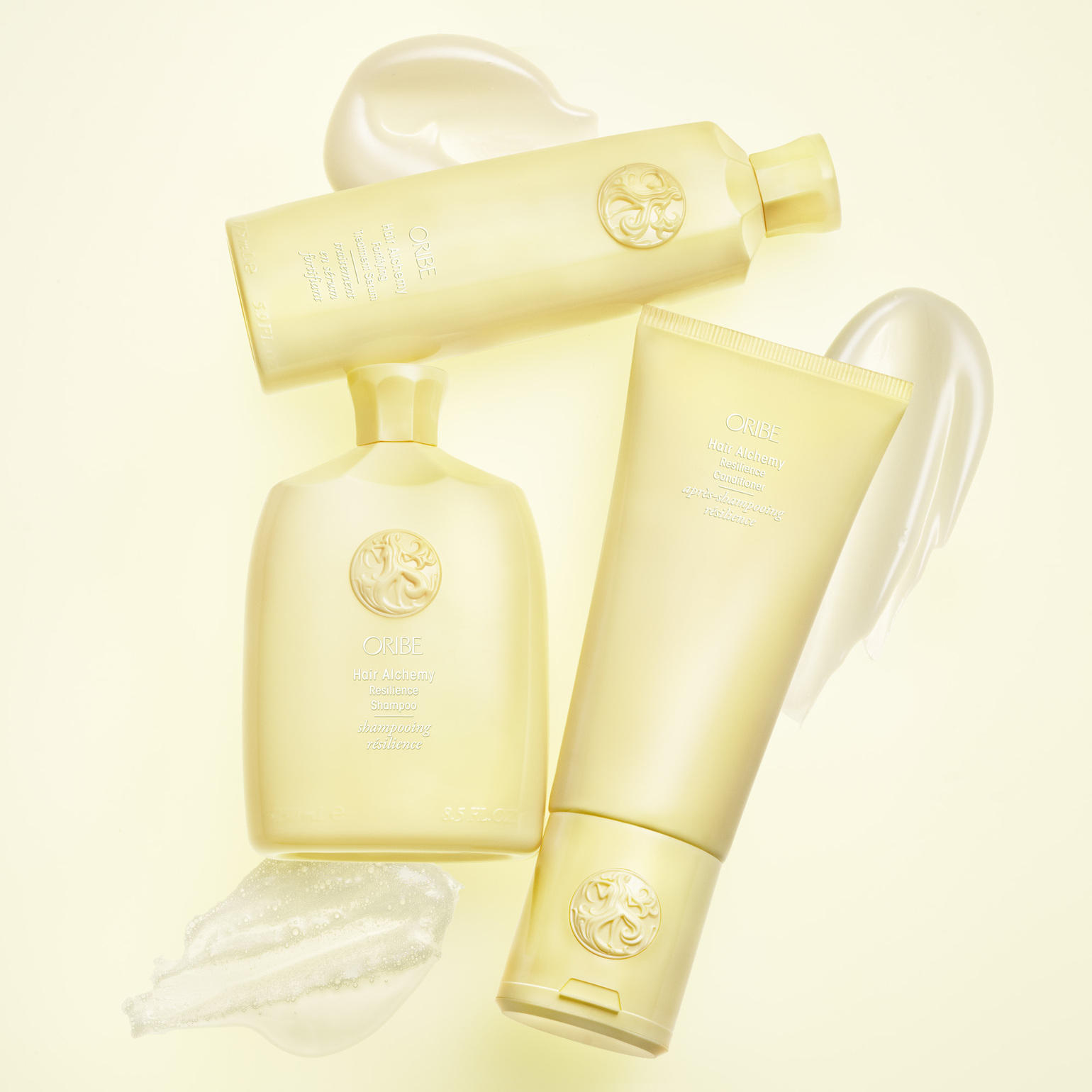 Hair is 2.9x more elastic and 133% stronger.*
*Based on a clinical test after 5 uses of Hair Alchemy Shampoo, Conditioner, and Fortifying Treatment Serum when used as a system vs non-conditioning shampoo
Who It's For:
All hair types that are weak (whether it's brittle, coarse, fine, or fragile) and prone to breakage and hair fall.
Key Benefits:
Reinforces and strengthens fragile hair
Hydrates strands, locks in moisture
Forms a scaffold around each hair fiber
Prevents breakage and encourages length over time
Improves the tensile strength and elasticity of each hair strand
What is it:
Engineered to power your creativity at every step, the peptide-powered PRO mist and mask resets and repairs hair before, during, and after chemical services for the healthiest canvas to create on
Who is it for:
Any client with damaged hair from heat, chemicals, and environmental factors
Key Benefits:
Infused with our patented K18PEPTIDE™, clinically proven to reverse damage in just 4 minutes.
Repairs damage from bleach + color, chemical services, and heat
Restores strength, softness, smoothness, and bounce for all hair types
Lasting + progressive results get better with continued use
Vegan, color-safe, cruelty-free
With just one salon treatment using the K18 PRO Service (PRO mist + mask), hair is restored up to:
91% original strength* | 94% original elasticity*
* Results observed in a clinical study while using mist and mask as part of a bleaching treatment. Results may vary depending on hair type, quality, and history.
Now that you know a little more about repairing your summer hair, which treatment will you request on your next visit?